Vegan restaurants in Kamakura
There are many types of restaurants that offer vegetarian and vegan cuisine in both traditional Japanese and international styles.
You will find lots of recommendations at Happy Cow (an online community about the vegan lifestyle as a healthy way of living). Among the 39 listings there are many cafes, bakeries, sweet shops, pizzerias and ethnic restaurants included.
Listed below are the places to eat where you can enjoy Japanese style tastes.
Cotonohana, a vegan restaurant, newly opened (moved from Kita-Kamakura) in Hase near Amanawa Shinmei Shrine, the oldest Shinto shrine in Kamakura, founded in 710.
Yoshie and Manami propose 4 choices of menu (¥1500 & ¥1800). More than 20 varieties of vegetables and ingredients used in the menu "Buddha Plate & Bowl".
As the number of dishes prepared is limited, it is recommended to go there at the opening time (11 a.m.) and enjoy "brunch" in a cozy tatami room. 
Afternoon Tea menu (15 - 18 p.m.) with 5 types of vegan sweets without using white sugar (replaced by date/maple syrup, amazake) and 30 kinds of medicinal herbal tea "all-you-can-drink" (¥3300) or with 1 vegan sweet (¥1500).
Take-out lunch boxes can be reserved by phone(0467-25-5508)
Closed Wed. & Thu.
2-10-34 Hase, Kamakura.
www.facebook.com/GIGI.KNITTING
www.instagram.com/cotonoha.kitakamakura/
Chirashiya is a small vegan sushi restaurant, opened July 2022, with less than 20 seats open from 11 am to 5 pm. [Dinner by reservation in advance]. Sushi is made with vegetables like tomato, pumpkin Kabocha, paprika, radish... also with tapioca, tofu, konjac... and with vinegared red rice. It is possible to order take-out. (9 sushi for 1500 yen). It could be a good idea to bring it for hiking (The trail starts from the backside of Kenchoji temple) and have lunch on top of the mountain. Map in English 
Closed on 2nd Wednesday and every Thursday.
https://chirashiya-kamakura.com/ https://www.instagram.com/0467chirashiya/
www.happycow.net/reviews/chirashiya-kamakura-326795 *On the page Happy Cow, the open hour is listed until 3 pm. but now they are open until 5 pm.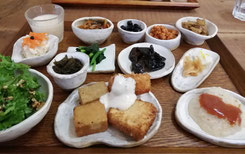 Kitotoki was started by Hiroko Nagao almost 10 years ago.  Her carefully prepared vegan cuisine comes from her own farming of pesticide-free, fertilizer-free vegetables. The vegetables are mainly grown from native seeds in a field she rents nearby. Seasonings such as koji mold, miso, olive oil and soy sauce are organic and often made by herself.
She first started to be conscious of food for the health of her daughter and went on to study macrobiotic and organic foods etc. 
Lunch includes more than 10 dishes with rice, soup, drink and a small sweet for 2200 yen. By reservation only. 
www.happycow.net/reviews/kitotoki-kamakura-106423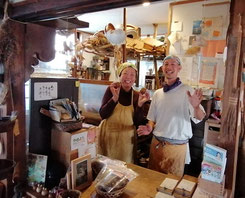 Shokudo Pace is open about 10 days a month. It is worth the effort to make plans to visit and meet the couple who runs the restaurant and who hopes to contribute to the environment, to experience the atmosphere of a 100 year old house where their grandparents used to live, as well as enjoy a menu they call Jomon Teishoku.  They say, "It seems that the Jomon people did not have a sense of possessiveness and lived by sharing. Everyone was part of nature and there were no boundaries...". The set menu with organic vegetables, nuts, grains, brown rice, and soup is about 1500 yen.
www.happycow.net/reviews/shokudo-pace-kamakura-94047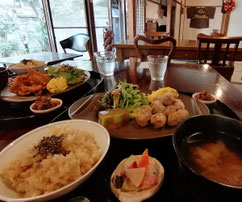 The Vegetable Café, now called Sorafune, is known for their macrobiotic style cuisine. Fried soy meat is their speciality and large amount is served. Customers have a choice of sitting on tatami mats or on chairs in this renovated old traditional house with a small garden. Soy meat lunch set is 1500 yen.
Vegetus is typically open only for dinner. Lunch is possible if the reservation is made more than 1 week in advance. Their European-style course meal with carefully selected local and seasonal ingredients pairs well with the Japanese wine that the owner-chef recommends. Course menu of amue, salad, appetizer, main dish and dessert is 6000 yen.
www.happycow.net/reviews/vegetus-kamakura-84625
Cafe Guri offers one menu of Shojin-vegan in addition to the choices that include fish and meat. The ambiance is spacious and relaxing. Located in Kamakura-bori Kaikan, 4 storey building run by the Cooperative Association for the traditional art crafts of carving and lacquering techniques. That is the reason the dishes served are the real plates of kamakura bori, which offer a rare occasion to touch them directly and feel the wood carvings.
www.happycow.net/reviews/cafe-guri-kamakura-102198
The museum on the 3rd floor exhibits about 50 masterpieces displayed along with the historical commentary of each era starting from Muromachi, 15th century. (entrance fee is 300 yen)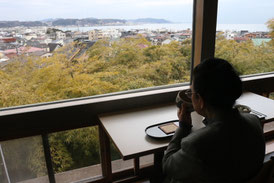 Kaikoan Restaurant is located inside the Hasedera temple, situated next to the viewing platform. The large window provides a beautiful view of the Yuigahama beach in the distance. The menu choices are limited to the vegetable curry and the pasta which are prepared by a monk who works at the temple. Tea matcha and some sweets are also to be enjoyed.
www.happycow.net/reviews/kaikoan-restaurant-kamakura-102326
Shiori Soba is located between Hase Station on the Enoden Line and the Big Buddha Daibutsu of Kotokuin temple. Soba noodles are 100% buckwheat and prepared in the restaurant by the owner who gives a Soba-making lesson. The vegan dashi stock is available. But with the influence of covid, the restaurant is closed at this moment (as of February 3, 2023).
www.happycow.net/reviews/shiori-an-kamakura-149122
The video of making Soba (30 min)
www.youtube.com/watch?v=o8Lq-Igf8uc
Chirashiya is a small vegan sushi restaurant, opened July 2022, with less than 20 seats open only for lunch time (until they run out of ingredients!). Sushi is made with seasonal vegetables grown locally. Reservation recommended.Closed on Wednesday and Thursday.
https://chirashiya-kamakura.com/ https://www.instagram.com/0467chirashiya/
www.happycow.net/reviews/chirashiya-kamakura-326795
Magokoro specializes in hemp and Hachinoki, from the Buddhist tradition of vegan food.  They are profiled in the article, "Japan's 6 most vegan-friendly cities" on the Cutluretrip, as well as on the pages of Happy Cow.
www.happycow.net/reviews/magokoro-kamakura-24236
www.happycow.net/reviews/hachinoki-kamakura-13870
https://theculturetrip.com/asia/japan/articles/japans-6-most-vegan-friendly-cities-ranked/
Kamakura feels like a chunk of California blended with Kyoto – plating up organic cuisine to match. The city's two golden arcs of sand attract a stream of visitors an hour south of Tokyo throughout summer, and beachfront eateries like hemp-obsessed hippie café Magokoro cement that West Coast vibe. But scale the hillside temples that peer over the coast to discover shojin ryori, the centuries-old Buddhist tradition of vegan and vegetarian food.
Kamakura Hachinoki isn't quite that ancient – it has only sat here surrounded by Kamakura's leafiest Zen temples since 1964 – but it still presents an authentic shojin ryori multi-course menu fit for a monk in an exclusive dining room shrouded in forest. And they're only two of the many plant-based restaurants and cafés that make Kamakura Japan's most underrated vegan destination.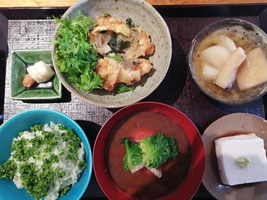 Narutoya is known for the Japanese style vegetable dishes but the Katsuobushi, bonito is used for the stock dashi. The owner-chef Yosuke Ichikawa replies that it is difficult to prepare the vegan stock even for the group reservation in advance. This restaurant is recommended for "Pesco-vegetarians".
3 min from the Kamakura JR Station. They are open for lunch and dinner. Reservation in advance recommended as they are often fully booked. Tel. 0467-23-7666 
www.instagram.com/narutoyakamakura/ www.facebook.com
Yamasato is located beside the Nino Torii, 2nd Torii Gate, just before Dankazura, the path leading to a Hachimangu Shrine.

Specialise in soba, buckwheat noodles.
There are 2 choices of Soba vegetarian using the broth made from vegetables (No bonito stock).
They also have 10 kinds of sweets based on azuki sweet red beans and kanten agar-agar.
Tel. 0467-24-9244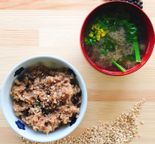 Cosmo Kitchen is a restaurant specializing in enzyme brown rice and fermented dishes. It is also a shop for the "beauty and health" products. Among 5 or 6 menus, there are choices without fish and meat : vegan curry and ramen. Their concept is cleaning the body, activating cells and increasing immunity with high-energy enzyme brown rice and fermented dishes.
Yuigahama bldg. 2F, 1-3-3 Yuigahama, Kamakura. Tue./Wed. closed. As they often have the reservation by groups or events, it is important to check if they are open before going. The schedule is announced on the page News. https://cosmotics.net/news/
https://cosmotics.net/restaurant/ (in Japanese only)

Soil Tables, new restaurant opened 
in October 2022 but closed on March 18, 2023. They will re-open in May 2023 near Kamakura sta.
---
Vege Cafe Hatoya, renewed as a vegan and gluten-free cafe.
It  is not situated in Kamakura but if you are driving along the coast of the Miura peninsula, it will be a nice place to stop by. On the train, it will be about a 5 min walk from Miura Kaigan Sta. on the Keikyu Line. 2 min to the beach ! All dishes are available for take-out.
The menu includes rice burgers, curry cutlets, spaghetti Neapolitan..., made with the organic vegetables from the Miura area, as well as sweets such as fried donuts, pudding, shiratama & sweet red beans... All vegan, gluten-free, and chemical-free.
The menu is supervised by Miyumi Chiba, Veggie Food Producer, who has been promoting plant based & vegan foods since 2014. She also runs Tokyo Smile Veggies to introduce the vegan restaurants in Tokyo.www.instagram.com/tokyosmileveggies
Vege Cafe Hatoya: 11h30 - 18h, Closed on Wednesday.